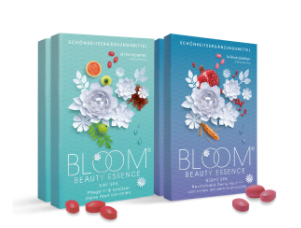 Bloom Beauty Essence®: Tips for Skincare During Spring
Bloom Beauty Essence® announced this week several tips for skincare during Spring.
"We've been protecting our skin from the harsh winter elements, but soon we will need to take care of our skin during Spring," said Annette Steiner-Kienzler, product developer and pharmacist for R-Pharm, a German pharmaceutical company. "Here are some tips for Spring skincare:
Dry skin needs hydrating

Dull skin needs exfoliating

Wear sunscreen all the time

Aging skin can use tropical-based vitamin A products or retinoids
"Everyone needs to take care of their skin all year round," Steiner-Kienzler said. "You need to be mindful of the time of year. Spring brings its own skincare challenges, as does Summer, Fall, and Winter."
Steiner-Kienzler said with the warmer weather and high humidity in Spring, the skin can begin to sweat and generate more oil, which can lead to clogged pores.
"Our Bloom Beauty Essence® Day and Night Spa are the perfect supplements to your daily routine," Steiner-Kienzler said. "With 24-hour protection from our Day and Night Spa products, your skin will have a healthier and natural glow."
Bloom Beauty Essence® Day Spa with natural antioxidants from guava, amla fruit, and microalgae for the skin while the Night Spar rejuvenates the skin by using superfoods, such as pomegranate and gluten-free wheat extracts.
"Antioxidants help moisturize the skin and reduce the appearance of fine lines," Steiner-Kienzler said. "The Night Spa uses Pomegranate, which has been used as a beauty treatment for centuries because it is rich in vitamins E, C, and minerals, such as magnesium, calcium, and potassium."
Steiner-Kienzler said there are changes to skincare routines for Spring but people can supplement their daily regimen with Bloom Beauty Essence® Day and Night Spa.
"You just take the Day Spa when you wake up and the Night Spa before you go to bed," she added. "Our supplements nourish your skin from within."
To purchase Bloom Beauty Essence® products, visit OneLavi.com.
About Bloom Beauty Essence®
R-Pharm, a leading German pharmaceutical company, developed Bloom Beauty Essence® skincare products that are natural and powerful nutritional supplements for your skin.